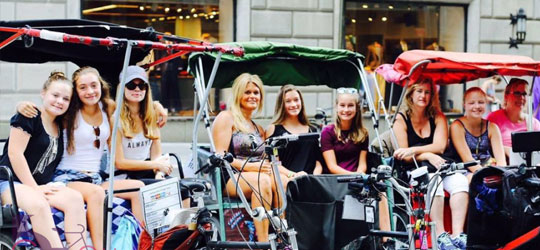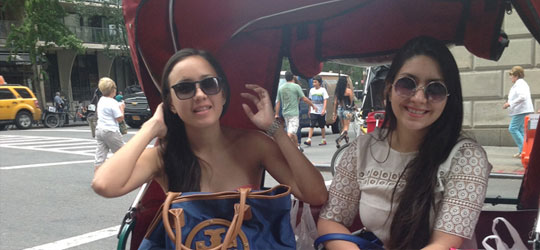 Platimum Gossip Girl & Central Park tour
Our platinum package is the ultimate experience for those looking to explore all major Gossip Girl film sites and Central Park Hollywood movie sites & celebrity homes in one amazing tour. The tour guides who conduct this tour are the best in the business and will narrate plenty of facts about Central Park's history as well be your personal photographer during Gossip girl stops including at The Met steps, Laduree bakery, Empire hotel, Henri Bendel and more!
The Gossip Girl sites covered on this tour are the following:
Met steps where Blair and her minions hold court
Palace Hotel where the Van Doorsens live and Guilt restaurant where they dine.
Laduree Bakery
Vera Wang boutique
Missoni Boutique
Empire Hotel
St James Church where Blair and Prince Louis had marriage ceremony.
Bethesda Terrace where Chuck & Blair got married in the season finale.
Lincoln Center
Henri Bendel where Blair & Serena shop.
Harry Winston where Chuck found the perfect engagement ring for Blair.
Central Park TV & movie tour
Constance Billard and St Jude school.
Blair Waldorf's apartment (Waldorf residences)
The world famous Plaza Hotel & Oak Bar
The Pond where Blair and Dorota feed the ducks
St Regis Hotel where prince Louie and Blair's wedding reception took place
Nate Archibald's house
Central Park sites covered on this tour:
The Carousel featured in Sex and the city.
Summer stage
Ice skating Rink featured in Serendipity
Bethesda fountain & terrace featured in Gossip Girl, Enchanted, Sex and the city…
Cherry Hill Plaza featured in Big Daddy
Strawberry fields
The Mall featured in Maid in Manhattan, Gossip Girl, Vanilla Sky, Kramer vs Kramer…
Sheep's meadow
Tavern on the green
Alice in Wonderland statue
Balto statue
The Boathouse featured in 27 dresses & Sex and the city.
Bow Bridge featured in Spiderman 3
This tour is private, very customized and allows for plenty of stops for photo ops, snacks, restrooms and even celebrity sightings if you are lucky!!
The Central Park sites covered include Bethesda fountain, cherry hill, Strawberry fields, Ice Rink, Carousel, Tavern on the green and more!
Duration: 3 hrs.
Price: $125 adult $99 child